Radha asks Krishna if he chose Mahadev's prepared bone bansuri or Babool tree's bansuri. Krishna says he was in a dilemma and goes into flashback where he thanks Mahadev and tells him that he already accepted Babool tree's bansuri. Babool asks him to accept Mahadev's bansuri as he is a god. Mahadev says Babool tree bore so much pain, so Krishna should accept Babool bansuri. Krishna says he will accept both bansuri and uniting both bansuris say this bansuri will be of babool but will have strongness of Maharshi Dathri.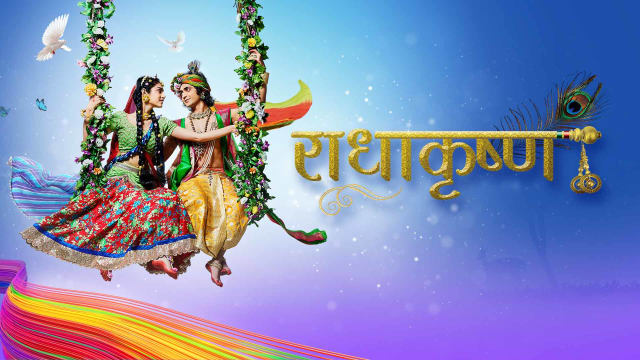 Mahadev thanks him and Babool says he will bear pain and pleasure always when Bansuri is mad. Out of flashback, Radha asks Krishna if this is the same bansuri, then how did she break it and even repaired it. Krishna says she is the source of everything, so she could break the bansuri in anger and then repair it with her love. She says when 7 musical tones are part of their love, then how can they be greater than love just like sunrays cannot be greater than sun; she wants to know the reason.
Krishna says she may have to go through a lot of pain to know the story. Radha says she is ready for that. Krishna says she may find a situation which will change her mind. He walks away holding her hand. Sam thinks good he is finding more about Radha and will separate them soon. Sam returns to Jamvati and Laxmana and informs them that Krishna tried to fool Radha with a cooked up story and magic, but Radha didn't get convinced.
Jamvati says she knows how to create more differences between them. She with Satyabhama walks to Radha and says they are gifting something special to Krishna and perform pooja for him, so even Radha should bring something special which Krishna gifted her. Radha agrees. Jamvati and Laxmana smirk seeing their plan working.
Balram walks to Krishna and asks him why is Radha sad. Krishna says Radha is experiencing truth of life. Balram asks why don't he explain him in detail. Krishna says he needs to experience love for that, which he never did. Balram acts as emotional and says his brother used to say that he loves his brother a lot and nobody can be like his brother, now he realized Krishna lied. Krishna says he will tell him truth then. Balram eagerly asks to tell then. Krishna says he knows Balram is acting, so his acting will not work. Balram stands confused.
All ladies gather to gift their favorite things to Krishna. Satyabhama gives her bangles which Krishna gifted her, Rukmavati her necklace, Laxmana sindhoot bottle which Krishna gave to Sam. Radha gives peacock feather which Krishna gifted her and says this is the most precious gift she ever got. Laxmana and Jamvati comment and say Krishna may not feel his peacock feather is more precious than Radha as he hasn't proved his love for her yet. Radha says Krishna doesn't have to prove his love for her.
She walks to Krishna and he has to prove that their love is above all and 7 musical tones or bansuri cannot be above it. Krishna says these 7 tones are unique as it came from 7 different places, one came from gods, 2nd from above earth, 3rd from below earth, etc., and final 7th one from his head and its very dangerous; all these 7 tones combine and make their love unique. Radha says she wants see and experience them. Krishna says he has to do deep meditation for that and have to awaken 7 tones in his body; she has to make sure his meditation is not disturbed or else she will forget 7 tones and Krishna as their relationship is based on 7 tones.
Radha says this will never happen and she will never forget his Krishna. Krishna says she already forgot him once. She asks when did she forget him. He reminisces Sridhama's curse and says forget about it.
Mata Gowri seeing that asks Mahadev if Krishna doesn't have any other option. Mahadev says no, sometimes to show their loved ones truth, they have to take such tough steps, Radha has chosen this path and has to bear its consequences. Krishna takes Radha to a place where he will meditate and asks her to protect him whatever may happen. Mata Gowri asks Mahadev if Sam will attack Krishna. Mahadev says not Sam, Krishna's biggest enemy will attack him and Radha has to protect him.
Krishna sits under meditation. Mahadev tells MAta Gowri that Sri Krishna is meditating for Radha and what if Radha goes away from him.
Asur guru Shukracharya attacks Krishna.
Credit: TellyUpdates