The Episode starts with Gehna telling Brahmarakshas Vardhaan that this girl will make you immortal after your marriage with her. Kalindi is made to sit beside Vardhaan while Gehna sits to solemnized their marriage. Prithvi and Shalini are tied there and are shocked. Kalindi gains consciousness and recalls her childhood, when tantrik tried to get her married to wolf. She asks Devimaa to save her, if she can't come then send her angel to rescue her. Jai Kali plays….Angad gains consciousness and gets up, calling Uma. He sits in the car and drives off.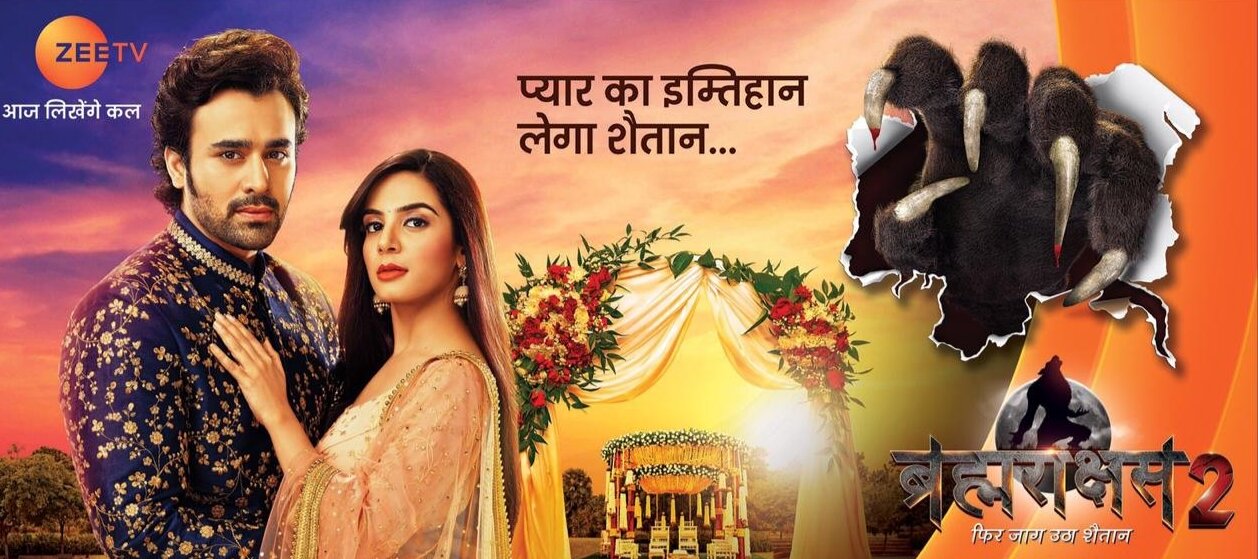 Vardhaan is happy and smiles. Gehna asks Shalini and Prithvi to do kanyadaan. Shalini says she is not our daughter, why shall we do the kanyadaan…Gehna asks her to do it silently as she will give their ahuti in the same havan kund. Kalindi is still drowsy. Prithvi gives Kalindi's hand in Vardhaan's hands. Angad is on the way. Gehna tells Vardhaan/Jwala that kanyadaan is done, just after the seven rounds are done then our powers will be so vast that you will rule on the world. She does the ghatbandhan and says start the rounds. Angad comes there and asks Uma to stop. A lady comes to Raghav and says time has come…
Angad brings milk in a big pot and pours it on Kalindi's head. Kalindi comes out of the trance or drowsiness and opens her eyes fully, coming back to her senses. She sees herself standing with Vardhaan and the knot is tied. Vardhaan gets angry. Gehna asks what are you doing, marriage is happening here? Kalindi says I don't want to marry you before and now also. She tries to open the ghatbandhan. Gehna says if you try to open the knot then I will kill you right here. Kalindi says I will not marry him. Angad says don't get married to him and tells that he has no muscles like him, but think about him.
He hugs her. Then they free Shalini and Prithvi and open the rope. Vardhaan gets angry and becomes brahmarakshas. Angad tells Kalindi not to get afraid from him and says he can't kill you, but you can kill him as Kalimaa gave you a boon to kill him. He says Madan was saying right that this Vardhaan is brahmarakshas and asks her to kill him. Kalindi says how can I kill him. Angad takes off the weapon from his back and gives to Kalindi.
The lady prays to Devimaa and tells that he will get immortal today if he marries Kalindi. She asks how did it happen infront of you. Raghav asks Devimaa to protect his daughter and asks her to see his yearning for his daughter, and asks if my pain is big or that rakshas's attack. He says your attack is big Maa. The lady asks Maa to help her devotees. A heavy wind comes. Kalindi looks at Brahmarakshas while Raghav and the lady pray infront of devimaa's temple. Prithvi and Shalini hides. Kalindi attacks brahmarakshas with the weapon. Angad stops Gehna. Gehna pushes him and goes to save Brahmarakshas and takes the attack on her.
She gets injured and falls down. Kalindi says so you are the one, because of whom my parents have died and I couldn't sleep since 16 years. She tells that she has understood that he is brahmarakshas/shaitaan. She tells that when kaal comes then Maa kali comes to kill him. She says Jai Mata Kali and attacks him. Brahmarakshas becomes Vardhaan and asks her not to kill him. He says I am an ordinary man, whom Brahmarakshas captivated. Angad asks her not to come in his talks and tells that he is not Vardhaan, but Lakhan. He asks her to kill him. Vardhaan becomes brahmarakshas. Kalindi attacks and kills him. He becomes human again after his death.
Kalindi and Angad come out from the temple. Pari comes and asks what has happened? Prithvi says we shall forget it as a bad dream. Shalini tells that Uma has saved us and has become God for us. Kalindi tells that everyone is alive here, because of Angad. If he had not brought me out of the trance then I would have married him and the destruction would have happened. Angad says I saved you, but you have saved everyone. Minty comes there and apologizes to her for not sitting with her in the car. Kalindi tells that she is fine and asks her not to cry. She asks Angad to get his injury treated and takes him with her, to do the first aid. Pari tells Shalini and Prithvi that she loved them so much and realized this today. Prithci congratulates Shalini.
Angad praises Kalindi for killing the Rakshas and tells that he didn't think that she can do when she punctured his car tyre. Kalindi bandages his injury and asks how did you know about the weapon/khadak. Angad tells that Madan had told me that you are born to kill brahmarakshas and tells that he told that it was buried beneath the temple. He tells that when he was searching the weapon and digged all the land, finally I got it, when I tried to pull it, it was connected to the tunnel and it fall on me. Kalindi asks how did you come out then? Angad tells that he is sure that someone helped him come out of the tunnel.
Kalindi asks who was he? Angad says he was old and weak, but he had the wish that I come out from there. He says when he came out and is about to thank him, the pillar fell on that old man. He says he tried to push the pillar, but couldn't, when the old man asked him to go and save the girl, give her weapon to kill brahmarakshas. Kalindi says he saved you and you went away. Angad says what I would have done, he had taken promise from me. Kalindi and Angad are in the car. Kalindi tells that an old man helped her too. They reach the temple and couldn't find the old man there. Angad says he is sure that he is weak and couldn't move from here.
Prithvi tells that they tried to kill her all life, but Kalindi saved them. Shalini asks him to adopt Kalindi and tells that they can even now kill her. Prithvi says we can't kill her, as all media and Police eyes are on Kalindi. Shalini gets angry and slaps Pari. She asks why didn't you save us and kill brahmarakshas. She says Kalindi has won Angad. Pari says she will marry Sid. Shalini says if Kalindi marries Angad then her property to go to Angad. Pari goes.
Kalindi tells comatose Madan that they searched for the old man who helped them, but he couldn't be found. She tells that even he (Madan) helped her so she will come to meet him daily. Angad gets jealous and tells that she has blocked him and telling Madan that he gave her new life. Kalindi says you are jealous and says Madan is handsome, charming, intelligent and spiritual. Angad says my IQ is 132 and says he has many degrees. Kalindi says you had said that Vardhaan doesn't match with Rakshas. Angad says I will get tution for shastra. Kalindi says you are very jealous. Angad says yes, 8 percent plus GST…She says even your Maths is bad. Angad says yes, I will take tution for that too.
Police inspector reaches the cave along with her team, Hospital staff and Media. She tells that brahmarakshas has used Lakhan's body in a bad way. She asks other Inspector to handover Lakhan's body to his family and get his funeral done with respect. They find bangle of Gehna. Lady Inspector says it is of Vardhaan's aunty. Inspector says marriage was happening here, she must be scared due to the violence here and went away.
Brahmarakshas is still alive, although he has left Lakhan/Vardhaan's body and drags Gehna's dead body to the jungle. A fb is shown, Gehna tells brahmarakshas Jwala that even if she dies, but her heart will beat in his chest along with his heart. She says your body will have two hearts, and says even if the weapon is powerful, then also it can't kill you. She tells that your death can't happen until someone separated our hearts, and make it two, nobody can kill you. Fb ends.
After 2 months:
Kinnar blesses Damini to become Dadimaa. Damina tells that she is not old. Shakti says you got blessings. She says in 50 pounds. Shalini asks the girl to bring the bride. Minty asks Kalindi to move on and tells that new relations and colors will come in life. Kalindi says we shall never forget the past and says if you throw my books, then I will throw you out of the room. The girl calls Kalindi and says tai ji calling you for haldi. Kalindi says I am coming.
Robin teases Angad for his looks and takes selfie with him. Robin says all your lovers will get shocked as you are getting blocked. Some girls come there and asks Robin to click their pics with Angad. Robin clicks their pics with Angad. Damini makes Angad sit and asks where is the girl? The soon to become bride comes there with veil on her head. Shalini lifts her veil and smiles. Pari also smiles. Shalini calls Uma and asks her to bring the haldi plates. Angad looks at Kalindi…Rabba song plays….. Angad gets teary eyes. A fb is shown. Pari threatens to commit suicide while her parents ask her not to commit suicide. Pari says my love is gone, I will end my life.
Prithvi takes her down from the railing. Pari says if you don't let me die then I will slit my throat and kill myself. Kalindi promises her that Angad is just yours and he will marry you. She promises her. Shalini acts and asks Kalindi not to sacrifice for her. She tells Pari that Angad loves Uma and Uma loves him too. She tells that when Kalindi gets pained then she will jump off from here. She says I will search a good guy than you. Kalindi promises not to look at Angad or not talk to him, until he marries Pari. Angad hears her from far. Shakti and Damini also looks on. Pari asks are you sure? Kalindi says yes and asks her to throw the knife down. Pari throws the knife.
Prithvi hugs her. Angad comes to Kalindi and appreciates her for sacrificing her love, which she got with so much difficulty. He says I was lafandar etc, but changed for you. He asks who gave you right to sacrifice my love. He says you knows that my happiness lies with you, but you have snatched my everything. He says I will do what I think is right and tells that if you want to meet me and see me, then your Chachi will know. He tells that he will marry Pari/Peri as she wants and tells that from today she is signing out from his life, completely blocked, Miss nobody for him. fb ends. Kalindi recalls and gets teary eyes.
Lady Inspector finds a couple dead in the jungle. She calls kalindi and Angad and inform them that brahmarakshas is alive even after getting killed by the weapon as told by Madan. Prithvi tells that Brahmarakshas will kill everyone this time. Nurse informs Lady Inspector about seeing something unusual in the hospital. Madan tells Kalindi that brahmarakshas will die only if his heart is cut into two pieces. Kalindi asks how did you know? Later she runs in the jungle and falls down. Brahmarakshas attacks her.
Credit: TellyUpdates